SUKHBAATAR, Mongolia - The moon glowed in the predawn Mongolia sky as Agvaantogtokh and his family prepared for another big move. On horseback, he rode to a well with nearly a thousand sheep and goats. Occasionally, he and his wife, Nurmaa, stopped to help struggling young ones, weak after a harsh winter.
Thousands of miles away in Senegal, Amadou Altine Ndiaye's family led livestock through a sparse African savannah. Horses and donkeys pulled a four-cart caravan along dirt paths in sweltering heat. Cattle followed. The family believed the next village would be richer with vegetation.
'I was born into pastoralism, and since then I've known only that,' said Ndiaye, 48, a member of the Muslim Fulani ethnic group who learned the ways of herding alongside his elders. 'It's a source of pride.'
More than 50 million people in Asia, Africa, the Middle East and elsewhere practice this way of life. As nomadic pastoralists, they keep domestic animals and move with them to seek fresh pastures - often selling some livestock for meat.
Although pastoralism has sustained these populations for millennia, it faces mounting pressures from deteriorating environments, shrinking rangelands, and new generations who seek a less grueling life. At the same time, pastoralism is modernizing, with groups leveraging technology.
FILE - Goats and sheep run towards a water point before undertaking a 24-kilometer journey to a new location in the Munkh-Khaan region of the Sukhbaatar district, in southeast Mongolia, May 14, 2023.
The practice has survived for so long because it is designed to adapt to a changing environment - pastoralists move with animals to find fresh pasture and water, leaving behind fallow land to regrow.
Experts say it's a lesson that could help those who raise livestock at larger scales adapt and reduce the impact on the environment. Pastoralists aren't only trying to outrun climate change; they're combating it.
'We need more rain'
Perhaps more than any other place, Mongolia is known for pastoralism. The practice is enshrined in the nation's constitution, which calls its 80 million camels, yaks, cows, sheep, goats and horses 'national wealth' protected by the state.
For families like Agvaantogtokh's, pastoralism is more than a profession. It's a cultural identity that connects generations. At its heart is the human connection to animals.
Agvaantogtokh and his family sell animals for meat. They also sell dairy products such as yogurt and hard cheeses. While they consider animals their property, they also see them as living beings working alongside them.
Researchers say herders believe in 'animal agency.' Agvaantogtokh lets his livestock pick grass, flowers or herbs to eat, and find their own water. To him, fencing an animal and asking it to eat the same thing daily is like putting a person in prison.
In Mongolia, weather extremes are a part of life. When Agvaantogtokh thinks about climate change, he worries about humans and livestock.
Chronic drought and warming plague Mongolia. Since 1940, the government says, average temperatures have risen 2.2 degrees Celsius. Dzuds - natural disasters unique to Mongolia caused by droughts and severe, snowy winters - have grown harsher and more frequent.
A dzud pushed Agvaantogtokh and his family to move out after a disastrous winter killed 400 of their animals.
The family lives simply. They have a sink with a rubber pump to limit water use. They live in a tent called a ger, with wooden circular frames insulated with sheepskin and felt, and doors facing east to let in the morning sun.
Nurmaa, who married into this way of life, uses a boiler fired with horse dung to cook and stay warm.
'Year by year,' she said, 'I have learned a lot of things.' Herding and birthing animals. Setting up camp. Cooking meals of breads, stews, milk tea and homemade wine.
Surviving on the edge of the Sahara
In Senegal, caravans carry the comforts of a furnished home, such as a metal bed frame and mattress, and water for people and animals.
With the rainy season approaching earlier this year, Ndiaye, his son-in-law Moussa Ifra Ba and the rest of the family prepared for a 170-kilometer, 16-day trek.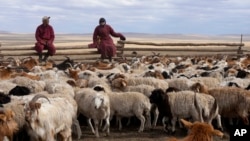 FILE - A neighboring herder talks to Agvaantogtokh, left, sitting on a livestock fence in the Munkh-Khaan region of the Sukhbaatar district in southeast Mongolia, May 16, 2023.
'The livestock are hungry, and you sometimes have trouble selling one because it is so thin,' Ndiaye said. Water and plentiful grass have become harder to come by.
Ba said: 'Many varieties of tree have disappeared, and even our children are unaware of certain species. The best varieties of grass no longer grow in certain areas, and the most widespread grass is more like rubber: It fills the belly but doesn't nourish the animals.'
Meals for Ndiaye's family rarely include meat. Only when they pass through certain villages can they stock up on food - vegetables, rice. Per-person meat consumption in Senegal is among the lowest in the world; rates are more than six times higher in Mongolia.
Ndiaye's family doesn't sell animals regularly. Meat is mostly for special occasions: weddings, holidays. When they do, a few head of cattle can provide enough money to get married, buy rice or even emigrate.
Ancient practice, new techniques
To keep their practice alive, pastoralists seek ways to modernize.
In Mongolia, Lkhaebum recently began using a motorbike to more easily search for horses. The family has a solar-powered battery that runs a television and washing machine, a karaoke machine, and a cellphone to keep track of weather and access Facebook groups where herders exchange information.
Though modern tools promise to make things easier, many pastoralists run into obstacles. Those in Senegal, for example, often struggle to find cellphone signals. They rely mostly on older technology and methods. An important advancement in infrastructure has helped: water towers known as forages that have sprung up with government assistance.
Perhaps the biggest threat to pastoralism comes from within, as the next generation chooses other paths.
Nurmaa and Agvaantogtokh's 18-year-old daughter studies medicine. Their son spoke about becoming a herder in his early teens. But not anymore.
'I won't regret anything if my child won't be a herder,' Nurmaa said. 'I would like them to do what they aspire to do.'
Four of Ndiaye's seven living children don't travel with their parents. Ba, 28, and his wife Houraye, 20, have a 2-year-old daughter and want to expand their family. They mused about a future in which at least one child stays in pastoralism while at least one goes to school.
'I'd like my children to keep up with the changing world,' Ba said.